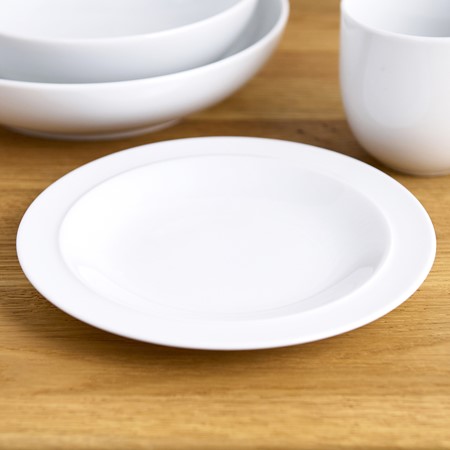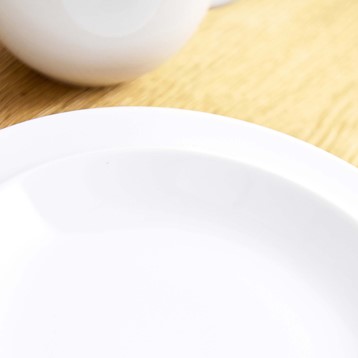 White by Denby Tea Plate
The option , you have selected is invalid for this product. Please review your selection or contact us for help placing your order.
A required addition to your tableware, the White by Denby Tea Plate is perfect for those light bites or after-dinner treats. Crafted from porcelain, it's both strong and stylish, offering versatility to suit any kitchen or dining area. Add some colour to your table setting with placemats and coasters to contrast with the clean, white tableware. We also carry White by Denby 12- or 16-piece Tableware sets that this Tea Plate can be added to.
Product details
Material:

Porcelain.

Care Guide:

Dishwasher, oven, microwave and freezer safe.

Product specifications
Product Sku -9000003579
Height -19cm
Width -19cm
Delivery Information
Premium Delivery - £89
Applied to all medium and large furniture items
Includes unwrapping, assembling (except for flat-packed pieces and garden furniture), placing your furniture in the location specified by you, as well as removing and recycling the packaging
Please note that garden furniture is delivered boxed and not assembled by our team.
£89 per order
Courier Delivery - £6.95 or FREE over £60
Applied to all home store and smaller items
£6.95 per order and FREE when you spend £60 or over
The estimated delivery lead time is displayed next to each product.
Payment options
We've made it easy for you to pay the way that suits you best. At checkout, you'll automatically be offered two different payment methods depending on what you are buying.
Pay in full
If you'd like to pay in full, you'll have several payment methods available to you. You can either pay with Google Pay, Apple Pay, or Paypal as well as credit or debit cards.
Pay a deposit and apply for interest-free credit
You'll also have the option to pay a deposit and apply for interest-free credit. How much deposit you want to pay is up to you, the minimum is only 10% of your total sale value.
At the checkout, choose the option "Apply for interest-free credit". Use our calculator to decide how much you'd like to borrow over what period. Place your order and pay your deposit, and you'll be contacted via email shortly. You can learn more about our interest-free credit here.
We'll be in touch when your furniture arrives to arrange delivery and take your remaining balance.
Explore the range
Discover the WHITE BY DENBY range