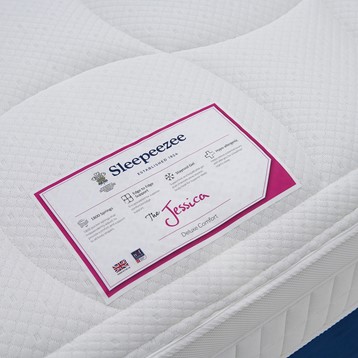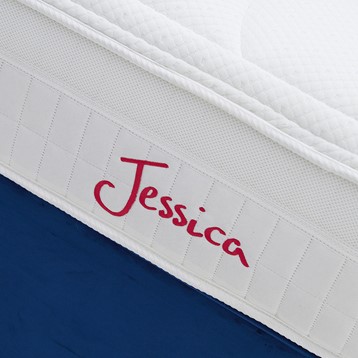 Sleepeezee Jessica Mattress
The option , you have selected is invalid for this product. Please review your selection or contact us for help placing your order.
The Sleepeezee Jessica Mattress is designed to offer an exceptional sleeping experience. Its 1800 individually pocketed springs ensure that each spring adjusts independently to provide personalized comfort and support. This feature allows the mattress to contour to your body shape, relieving pressure points and promoting restful sleep. The stay cool gel layer incorporated in the mattress provides additional support while regulating body temperature, ensuring a cool and comfortable sleep environment throughout the night. The edge-to-edge support feature ensures that the entire surface of the mattress is usable, allowing you to maximize the sleeping area. The Jessica Mattress is hypoallergenic, making it ideal for individuals who suffer from allergies or sensitivities. By combining advanced technologies and thoughtful design, the Sleepeezee Jessica Mattress offers a healthier and more rejuvenating sleep experience. Single- 90 x 190cm Small Double- 120 x 190cm Double 135 x 190cm King 150 x 200cm Super King- 180 x 200cm
Product details
Product specifications
Product Sku -jessicamattress
Product protection
For a single upfront fee, you can make sure that your new upholstery is safeguarded from common accidents in your home.
Delivery Information
Premium Delivery - £89
Applied to all medium and large furniture items
Includes unwrapping, assembling (except for flat-packed pieces and garden furniture), placing your furniture in the location specified by you, as well as removing and recycling the packaging
Please note that garden furniture is delivered boxed and not assembled by our team.
£89 per order
Courier Delivery - £6.95 or FREE over £60
Applied to all home store and smaller items
£6.95 per order and FREE when you spend £60 or over
The estimated delivery lead time is displayed next to each product.
Payment options
We've made it easy for you to pay the way that suits you best. At checkout, you'll automatically be offered two different payment methods depending on what you are buying.
Pay in full
If you'd like to pay in full, you'll have several payment methods available to you. You can either pay with Google Pay, Apple Pay, or Paypal as well as credit or debit cards.
Pay a deposit and apply for interest-free credit
You'll also have the option to pay a deposit and apply for interest-free credit. How much deposit you want to pay is up to you, the minimum is only 10% of your total sale value.
At the checkout, choose the option "Apply for interest-free credit". Use our calculator to decide how much you'd like to borrow over what period. Place your order and pay your deposit, and you'll be contacted via email shortly. You can learn more about our interest-free credit here.
We'll be in touch when your furniture arrives to arrange delivery and take your remaining balance.
Explore the range
Discover the SLEEPEEZEE JESSICA range