Le Creuset
Bringing colour to your kitchen since 1925. Since its launch, Le Creuset has established itself as a leader in the cookware industry, offering unparalleled quality and craftsmanship. Each piece is carefully crafted by skilled artisans, combining traditional techniques with modern innovation.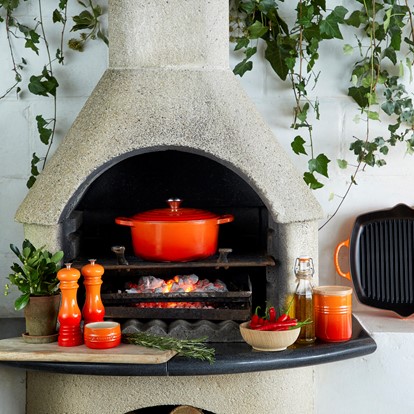 Le Creuset's journey began in 1925 in a small foundry in France, where its iconic cast iron cocotte was first created. Today, the brand continues to produce timeless classics cherished by both home cooks and professional chefs worldwide. With a commitment to quality and innovation, Le Creuset continues to uphold its legacy of excellence.
Explore our Le Creuset casseroles, pans and more
From iconic designs that withstand the test of time to the relentless pursuit of culinary perfection, Le Creuset is the brand that captures the hearts of passionate cooks everywhere. Over the years, Le Creuset has expanded its product range to include a variety of cookware, bakeware, and kitchen tools, all designed to enhance the cooking experience. From versatile skillets to cast iron Dutch ovens, each piece is meticulously designed for optimal heat distribution and retention, ensuring exceptional results with every use.
Javascript is required for this component to function.
FREE UK delivery when you spend £60 or more
Elevate your cooking experience with Le Creuset and embark on a culinary journey filled with flavour, creativity, and joy. Enjoy FREE delivery around the UK when you spend £60 or more on home store products.
Find Le Creuset in these stores
Come visit us in-store where you can see and feel our Le Creuset products before buying. Our knowledgeable home store experts are happy to help you and answer any questions you may have.