Corner sofas provide an elegant solution, allowing you to tailor a larger sofa to fit your room's specific angles. Contrary to the name, corner sofas don't have to be placed in a corner – they're versatile pieces that come in different configurations, ranging from the classic L-shape to the expansive U-shape and customisable modular options.
Corner sofas offer lots of great benefits, such as:
More flexibility over placement in a room.

Corner sofas can save you space compared to choosing separate sofas.

Easier to get into your home during delivery and installation.

Available with all of the versatile functions of standard sofas, such as pull-out beds, hidden storage and recliners.
When buying a corner sofa, you need to consider which shape is right for you, whether you need a left or right-angled option and how the couch will impact the space.
Choosing a corner sofa isn't easy – so we've put together this guide to walk you through the options…
Understanding corner sofa design styles
Corner sofas come in different styles, making the choice of options depend entirely on your home and your tastes. Here are the most popular types to help you understand which may suit you.
L-shaped sofas
The classic L-shaped corner sofa is perfect for people looking to fit a couch into a smaller room or keep floor space clear. L-shaped corner sofas come in different styles, most commonly featuring a classic two or three-seater sofa section and then a chaise lounge at the other angle. The l-shape is the classic 'corner' design because the 90-degree angle where the two sections join means they can fit into the corners of most rooms.
L-shaped designs don't have to be placed in a corner, however. They are equally useful for rooms where the entertainment centre/TV is placed on a wall or in a corner, as you can then position an L-shape sofa to provide a good viewing angle.
C-shaped sofas
C-shaped sofas are expansive pieces with three sofa sections forming the 'C' shape. They are generally meant for larger families and rooms in which you want to host guests – but they are also great for couples who each want space to fully stretch out and lounge in style.
U-shaped sofas/curved
Similar to an L-shape sofa, a U-shape has a round bend at the back rather than the 90-degree straight edges of an L-shape. In most cases, a U-shape sofa offers the same placement advantages as an L-shape, so it's mostly an aesthetic decision.
Reclining corner sofas
Just as with regular sofas, corner sofas can come with a reclining function. Recliners are now the most popular type of sofa on the market due to the luxurious comfort and customised 'feel' you can achieve.
Reclining corner sofas need more space behind them than a traditional corner model. You'll need to measure how much space it takes up when fully reclined, though there are recliners specifically designed to be placed near walls, so they may be worth choosing if you're low on space.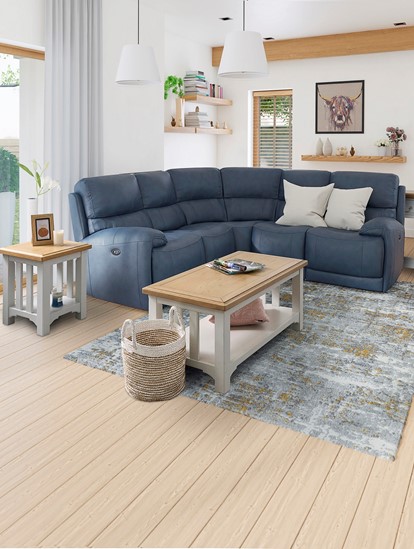 Modular corner sofas
Many corner sofas come as modular sofas, which means they are sold with 'modules' that can be changed to suit your needs. From chaise lounge sections, arm rests, headrests and footrests, everything can be customised to fit your requirements.
Whilst modular sofas do offer the promise of being able to customise their configuration freely, they are generally sold as a complete set. Before you commit to purchasing one, ensure you're buying every module you might need. Otherwise, you may face a situation where you decide you'd like a chaise section but have difficulty sourcing individual elements.
Right or left-hand facing: which is right for you?
The most common thing to trip up any potential corner sofa buyer is the idea of left or right-hand facing sofas. This term refers to the longer, sectional part of the sofa if you're standing facing the seating section – not from the point of view of someone sitting in it.
When considering a left or right-hand facing, think about the angles you want to view when sitting and how it will impact the room's overall feel.
Some sofas, specifically C-shapes and other L-shapes with sectionals just as long as the main seating area, don't need a 'facing' consideration as they are essentially both left and right-facing. These sofas tend to lend themselves well to communal rooms and family seating as they will place occupants facing one another.
When you're shopping for your corner sofa, keep an eye out for the features you think will be most relevant to you.
Chaise end: the vast majority of corner sofas come with a chaise end, which is an armless 'bed' style lounge area. The chaise end is intended for putting your feet up but often becomes a place to fully outstretch and unwind after a long day – so if you're tall, you may want a longer chaise end to accommodate for that.

Recliner: choose a sofa with a reclining function to enjoy a more customisable level of comfort. With most forms of recliners, you can select specific settings that suit you, whilst another member of the family can use different settings in their section.

Sofa bed: as with normal sofas, plenty of corner sofas come with a sofa bed option. This is typically folded away beneath the seating area – though some chaise-end sofas can double as a sofa bed.

Storage options: tight on space? Not only do corner sofas usually save space in terms of their footprint in a room, but you can also choose options with built-in storage. Alternatively, select one with plenty of floor clearance and tuck some storage boxes underneath.

Fabric vs leather: when selecting an upholstery option, consider the practicalities of your household. Leather may be a beautiful and hardwearing material, but it requires more maintenance than many fabric options. Some types of fabric are more prone to wear than others. See our main sofa buying guide to learn more.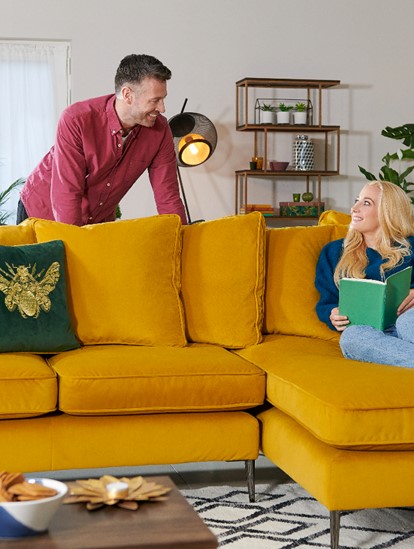 Measuring for a corner sofa
Measuring for a corner sofa depends on what option you choose. With any sofa, you need to measure the width, depth and height – but with corner couches, you'll need to split the item into sections. For example, you'd measure the width, depth and height of the right-hand chaise section and the seating section.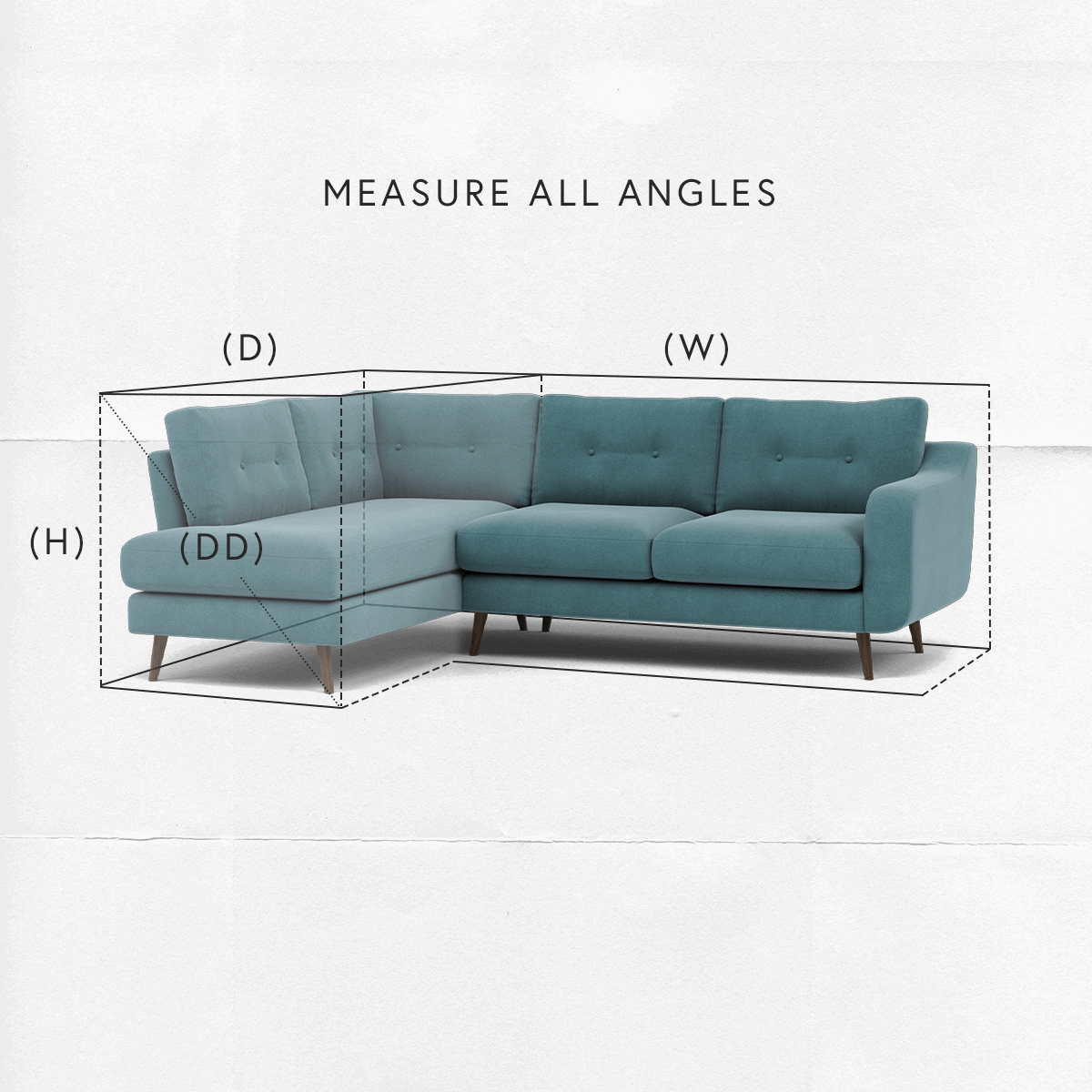 Putting two separate sets of corner sofa dimensions together is confusing – so we'd recommend laying out a 'footprint' of the corner sofa in your chosen room. To do that, use old newspapers or similar material and map out the size of each section. This will give you a clear idea of how big the sofa really is, what corner it may fit into and how it will impact the room.
Also, don't forget to measure the diagonal depth of your sofa, which is the straight diagonal line from the top point of the back frame to the front bottom of the couch. It's vital to know this measurement to know if you can get your sofa into your home.
One important tip: measure access before anything else. If you can't fit the corner sofa dimensions through your door or window, you can't get the sofa itself into your home unless it can be disassembled. If the couch needs to go into a bedroom or upstairs, measure interior doorways and the stairway too. When looking at options, enquire about how the sofa will be delivered – if it comes in multiple parts, it may be easier to fit.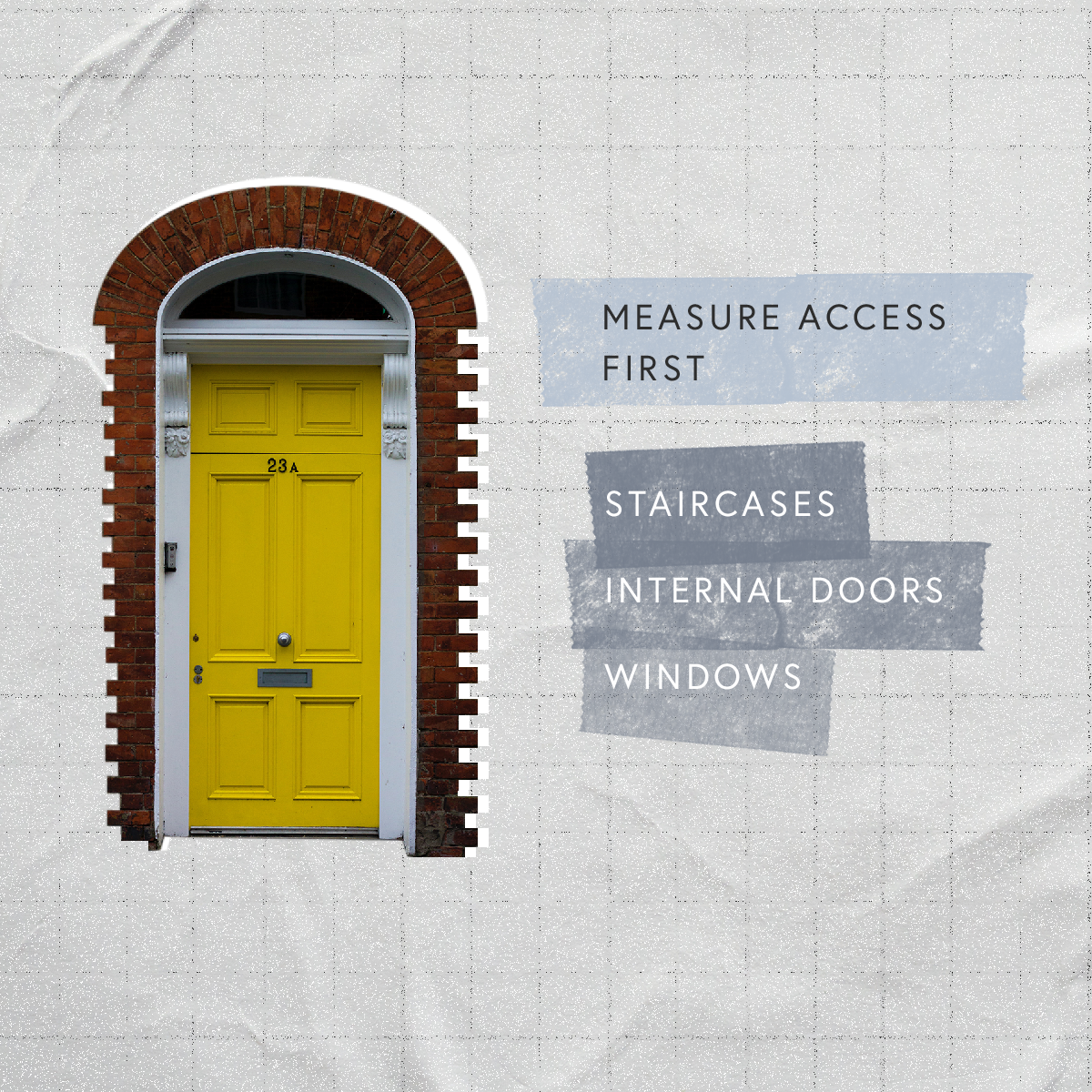 Design a room with a corner sofa
Corner sofas give you the flexibility to style a room your way. Most can be placed back near walls, but they can also be used to dictate the flow of activity in a space. If you have a large TV mounted to a wall, choose the appropriate facing L-shape so you can lounge on the chaise end whilst watching.
Remember that most corner sofas have one section longer than the other. This is important when choosing where to place them, as you'll need to ensure the longer part doesn't impede traffic through the room.
In general, you should avoid having the back of the sofa facing the doorways of a room. This isn't always possible, but the aim is to try and prevent a 'closed' feeling when entering the space.
Our final consideration depends on the size of your living room. If it's a large space, you'll need to be careful when placing a corner sofa in a corner, as it may be swallowed by the rest of the area if it's not big enough. Alternatively, if your living room is small, choose a smaller corner sofa specifically designed with space-saving in mind.
That's everything you need to know ahead of choosing a corner sofa. As always, pick a style and shape that not only suits your lifestyle and requirements but also fills you with joy. A couch is a big part of your home's personality, so make sure you pick with your heart as much as your head. Browse our range of corner sofas to discover your dream option today.
Corner sofas offer far more pros than cons. If there were any, it would be that particular L-shaped and C-shaped sofas may not suit certain spaces and are less customisable than modular sofas or two separate sofas.
That depends on what you want the sofa to achieve. If it's to face a specific angle for practical reasons, you'll need to choose the appropriate facing. Remember that the 'right' or 'left' hand-facing name applies from the point of view of someone facing the sofa from the front. This should make it easier to pick the appropriate angle for your space.
If your space is more symmetrical, facing may not be as critical - though remember that the back should face away from a door, and the seating area should be angled towards natural light.
It depends on the sofa. All modular sofas come in smaller sections, and even most not-modular models, too, so they can be delivered more easily. However, some larger corner sofa options don't come apart and may cause issues if you try to get them in your home. If in doubt, ask us before buying.