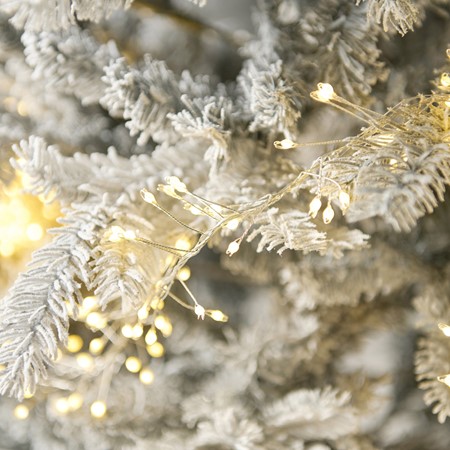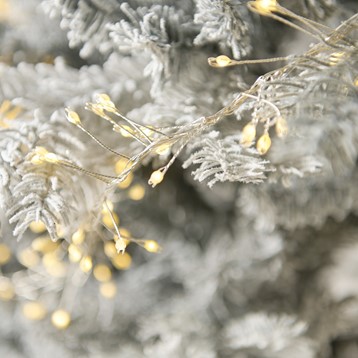 Ultrabright 800 LED Door Garland Cluster Lights, 5.5m - Warm White
The option , you have selected is invalid for this product. Please review your selection or contact us for help placing your order.
Ready to make a statement with your front door decoration this Christmas? This gorgeous string of Ultrabright warm white 800 LED cluster lights makes an impressive door garland, offering a dense burst of light. Thanks to its cluster design, it has a natural, almost foliage-like look. Can be used in various ways, both indoors and outdoors, not just for adorning a door frame. Thanks to its multi-action functionality, you can switch between static and flashing light modes. Plus, you have a convenient timer so you can set it to switch on at the same time every day. If you prefer cooler tones, we also stock this light in cool white colour.
Product details
Stunning cluster lights




Perfect as a door garland or Christmas tree lights



Looks fantastic in dark
Long-life bulbs
Low energy consumption
Minimal assembly
Multi-action effects
Colour: Silver wire
Lit length: 5.5m/18ft
Power source: Mains
Length of lead wire: 3m
Timer function: 8 hours on/16 hours off
Bulb type: LED Lights
Number of bulbs: 800 LEDs
Bulb colour: Warm White
Ideal to use both indoors and outdoors
Product specifications
Product Sku -9000372799
Delivery Information
Premium Delivery - £89
Applied to all medium and large furniture items
Includes unwrapping, assembling (except for flat-packed pieces and garden furniture), placing your furniture in the location specified by you, as well as removing and recycling the packaging
Please note that garden furniture is delivered boxed and not assembled by our team.
£89 per order
Courier Delivery - £6.95 or FREE over £60
Applied to all home store and smaller items
£6.95 per order and FREE when you spend £60 or over
The estimated delivery lead time is displayed next to each product.
Payment options
We've made it easy for you to pay the way that suits you best. At checkout, you'll automatically be offered two different payment methods depending on what you are buying.
Pay in full
If you'd like to pay in full, you'll have several payment methods available to you. You can either pay with Google Pay, Apple Pay, or Paypal as well as credit or debit cards.
Pay a deposit and apply for interest-free credit
You'll also have the option to pay a deposit and apply for interest-free credit. How much deposit you want to pay is up to you, the minimum is only 10% of your total sale value.
At the checkout, choose the option "Apply for interest-free credit". Use our calculator to decide how much you'd like to borrow over what period. Place your order and pay your deposit, and you'll be contacted via email shortly. You can learn more about our interest-free credit here.
We'll be in touch when your furniture arrives to arrange delivery and take your remaining balance.